Kinetico Systems
You're sure to feel and taste the difference with a Kinetico System, cleverly engineered to solve virtually any water problem, and produce luxuriously soft water and worry-free drinking water all throughout your home. Efficiently. Reliably. And without electricity. Simply stated: better water flows from better thinking!
Our Supplier: The Kinetico Difference

Kinetico starts with industry-leading water softeners and reverse osmosis systems that work more efficiently to deliver long-lasting comfort that's tailored to your home and lifestyle. Your water is soft, and it looks, tastes and feels better. You'll have softer skin, silkier hair, and longer-lasting clothes, fixtures and appliances too. Plus, there's no need for bottled water, so you won't be creating plastic waste. Every Kinetico system is backed by the most comprehensive warranties around. It's why Kinetico customers love their water and refer their friends time and again.
History
Founded in 1970, Kinetico pioneered the development of non-electric, fully automatic water treatment systems. In the years since, we've grown into a global company of independent Kinetico water specialists and international distributors serving over 100 countries. We offer complete water systems that deliver only the highest quality water for general use and drinking. We back every piece of our equipment with industry-leading warranties. Our approach reflects our deep commitment to preserving and conserving fresh water, one of our planet's most precious and endangered natural resources.
Certifications
WATER QUALITY ASSOCIATION TESTED AND CERTIFIED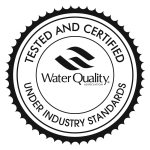 Water Quality Association, or WQA, is the trade organization for the water quality improvement industry. It is a non-profit, international organization that provides educational and technical assistance and standardized industry testing for water treatment products.
WQA has developed industry standards, and it tests products for the following:
Product performance
Equipment capacity
Simulation testing
Select Kinetico products have been tested and certified by WQA to perform as claimed.
Visit the the WQA Website: https://www.wqa.org/
Additional Purfecta Certifications


The Purefecta Drinking Water Purifier was tested by BioVir Laboratories and found to meet all the requirements of the USEPA's Guide Standard and Protocol for Testing Microbiological Water Purifiers (OPP Task Force Report, 1987) as interpreted by BioVir Laboratories specifically for the Purefecta Product.